Air Conditioning Systems For Older Homes & Room Additions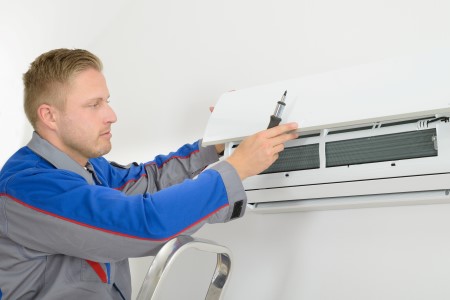 Many homes in West Palm Beach have no central air conditioning systems. One of the problems with converting an older home to a central air system is space. Attic spaces can be too small to house the ductwork, or there could be no space indoors to borrow to install a large air handler.
When building a room addition on any home, the room needs to be cooled. Ductwork has to be tied into the central air system. Often, there are problems keeping the room cool because the thermostat is located further away. The existing central air system may be too small to cool the additional square footage. Or, the floor plan winds up being a problem for good air flow to the room.
Fortunately, in modern times there are other options to consider in air conditioning systems that eliminate these problems. The ductless air conditioning system is a great option. As local West Palm Beach air conditioning pros, our West Palm Beach air conditioning company has installed all types of cooling systems in Florida. Here is some information our customers regularly ask us about.
Today's Ductless Air Conditioning Systems
One of the concerns people have is whether the ductless air conditioner is able to provide enough cooling capacity. In fact, you can install a ductless air conditioning system to cool the entire square footage of a home.
The difference is that they handle one room at a time or a few rooms at a time. This is actually more desirable than a centralized air conditioning system because each room often differs in temperature. With more focus on the comfort level of each room, the homeowner has more control, eliminating hot rooms or hot spots in the home.
There are systems that provide premium efficiency for larger areas. The ductless splits cool up to 1500 square feet at the size of 36,000 BTU.
Efficiency Of Ductless Air Conditioning Systems
As with any Air Conditioning Systems For Older Homes, the ductless air conditioning systems vary in efficiency. Maximum efficiency may be achieved by installing the air handler part of the system in every room. The SEER rating can be as much as 30.5. The higher the SEER rating, the more efficient the system is. The manufacturer of one of the most efficient ductless air conditioning systems at this rating says they use 40% less energy per room than a traditional cooling system or window unit.
Space Saving Ductless Air Conditioning Systems
A ductless air conditioner needs much less space than traditional equipment. The equipment is very compact, but powerful and quiet. This makes the ductless air conditioning system very desirable for room additions or for converting an older home which uses window units.
If you have questions about Air Conditioning Systems For Older Homes or need a professional West Palm Beach air conditioning company for your residential or commercial project, please 561-247-2182 [in Palm Beach] or 772-497-6580 [in Martin County] or complete our online request form.