Why Does My Air Conditioner Freeze Up?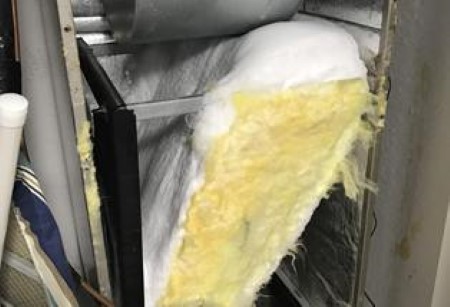 One of the biggest issues a homeowner has to deal with is when they're sitting in their house, minding their own business, eating ice cream and watching television, all of a sudden they hear that distant, awful sound; drip... drip... drip. They glance over to see the dog licking at a puddle that's gradually forming on the bathroom floor. In a flash: Anxiety, stress, and that "how much will this cost?" feeling. You immediately start to question how the leak started. Water heater, leaky toilet, shower, faucet? Nope. The culprit is that the air conditioning equipment is frozen. Don't panic because Cooling Advisors offers hope and solutions.
How Air Conditioners Freeze
The evaporator coil is the component of a central air conditioning unit that actually freezes. This component of the air conditioner transfers (evaporates) heat from the inside to the outside of your home. The two main reasons why the evaporator coil may freeze:
Airflow restriction
Insufficient refrigerant
The ending effect is that the air conditioner's evaporator coil cannot operate to properly transfer heat, and in essence 'overcools' itself. The result is water formation. Eventually ice forms from that condensation as it cools below the freezing point. Yep, the air conditioning transformed into an a block of ice.
What Should You Do When Your A/C Freezes?
Go to your thermostat and simply turn the system OFF and the fan ON. Doing this will keep the fan running inside and cause the outside unit to shut off. This will defrost the ice that has formed.
Confirm that there is nothing restricting the airflow to the system. Replace air handler's filter along with any return air filters. If your return is accessible, pull out a flash light to see if anything could possibly be blocking it.
If you have exhausted all avenues call Cooling Advisors. The air conditioning system needs to be inspected by a licensed and background-checked, certified professional to ensure there are no refrigerant leaks or damage to the equipment. Simply schedule a Performance Inspection or Repair Diagnostic online, or call to talk to a live person right away.
Your technician will diagnose the situation and how to avoid the issue from occurring in the future. If a leak is present the leak has to be repaired or the unit will probably freeze again.